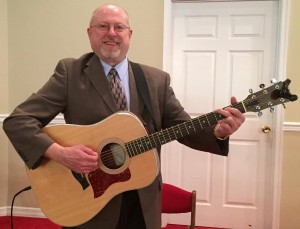 Music Minister Greg Jenkins
Our Minister of Music, Brother Greg Jenkins, was born in Quanah, TX, the middle child of three boys. His parents were both from Oklahoma. He was raised up in church. He remembers singing in the children's choirs when he was very young. He was saved and baptized at the age of eight. His parents got a divorce when he was twelve and his dad and two brothers and he eventually wound up in Conway, Arkansas, where he spent the ninth grade through his college years. They were always involved in church as long as he can remember. He led the singing in his home church in Vilonia, AR, at the age of 17, after his two brothers both had a stint with the job. The four guys (Dad and the boys) also sang in a southern gospel quartet called the Jenkins Family Quartet. He married Jessie when he was 21 and still in college. They met at church. He says that she has been his best friend all these years. He feels that the Lord really blessed him with her.
He was called to his first official ministry position (part-time), at Mt. Pleasant Baptist Church in Cabot, AR, when he was around 23 years old. He taught Spanish and French at Augusta High School (and lived in that town) some 50 miles from the church, and then taught Spanish for a year at Lonoke High School (Lonoke, AR), while ministering there. Their first child, Felisa, was born during that time. He was then called to Salem Baptist Church in Pine Bluff, AR, in 1977, for a full-time ministry and was there for about three years. Their second child, Arin, was born in Pine Bluff. Then they went to Second Baptist Church in Malvern, AR, for a full-time ministry for six and one half years. [He worked on his Master's degree in Spanish (minor in French) while teaching and living in Augusta, and then Lonoke, then attended the Missionary Baptist Seminary and Institute in Little Rock, AR, while living in Pine Bluff and Malvern, and received an Associate in Church Music Education degree plus Bible languages.] Their youngest child, Keenon, was born in Malvern.
Jessie has worked several jobs down through the years, including full-time homemaker and stay-at-home mom at times. She has worked at a bakery, a piano factory (Baldwin), J.C. Penney's, and a florist shop, as well as babysitting other kids. She currently is a substitute aide in the Berkeley County School System (WV).
While they were at Second Baptist, Greg, Felisa, and Arin began singing together as The Jenkins Trio. They sang together for about 20 years, up until Arin went off to Kansas City, MO, for a ministry at First Baptist Church in Blue Springs. This was after Greg and the family had moved to Arkadelphia, AR, where he was minister of music, part time, for 17 years at Baring Cross Baptist Church, and also taught Spanish in the public schools and a couple of years as an adjunct at Henderson State University. After Arin moved off, then got married, and subsequently moved to Maryland, they got to sing together only occasionally, and still do only occasionally, when they're all visiting together somewhere.
Now, here Jessie and Greg are in WV working with First Baptist Church in Inwood (and living in Martinsburg). Who would've thought it? He says that they have seen God's hand all along in leading them to each field of labor and He has always been good to them, even in the toughest of times.
Felisa, her husband Bryan, son Isaac, and daughter Jessalyn live in Bella Vista, AR. Felisa is a stay-at-home mom and Bryan is a Network Administrator for CompuCom. They are active in ministry in Solid Rock Missionary Baptist Church. Isaac was born in June of 2002, and Jessalyn was born in June of 2006. Arin and Kristy have fraternal twins, Jace and Avery, born in October of 2002, a daughter named Kadence, born in February of 2006, a daughter named Ainsley, born in August of 2009, and another daughter, Kinsleigh, born in June of 2012. They are expecting another set of fraternal twins in late April of this year (2014). They live in DuPont, WA (near Olympia). Arin is a full-time registered nurse at Franciscan Health Services in Tacoma, WA, while Kristy is a stay-at-home mom. He is also the worship leader at Life Church in DuPont. Keenon went to his first year of college at Arkansas State University in Jonesboro, where he played baseball (and studied electrical engineering) and, then he moved up to WV to live with his parents and attend Shepherd University in Shepherdstown, WV. He played baseball there, too, for a while, till he tore his rotator cuff tendon and frayed his labrum, necessitating shoulder surgery. He also studied computer art/graphics in online studies with The Art Institute of Pittsburg. Keenon is now manager of the Roof Center store in Cumberland, MD. He is married to Julie Cheshire of Martinsburg and they have a son named Kasen, born in February of 2007, a daughter named Sadie, born in April of 2010, and a son named Levi, born in November of 2011. Keenon and Julie are active members of First Baptist Church of Inwood and Keenon is a member of the worship team.
Another thing that might be of interest is that Greg tuned, repaired, and rebuilt pianos part-time from his second year in college until they moved to West Virginia. He says that he was "sort of apprenticed" by a family friend who was a piano technician and a Mennonite evangelist. He allowed Greg to spend time with him while he worked and would explain what he was doing, and also let Greg borrow the materials from the three piano tuning courses he had taken. When Greg determined that he would like to pursue that field to help with his college expenses (and living expenses in general), he bought an old upright piano for $25, "fixed it up," and sold it for a good profit, then bought another for $50 and after repairing and tuning it, sold it for $250. He then began offering his services for free to people who knew him, then began to charge a small amount for the service, eventually worked up to the "going price" as he gained experience. It grew into a regular means of "making the ends meet."
Other employment he had while going to college included managing an Arkansas Gazette newspaper route; working at OTASCO (Oklahoma Tire and Supply Co.), a donut shop, a pizza place, and Virco Manufacturing Co., a school and office furniture manufacturer; selling Bibles, Bible reference books, and medical encyclopedias; and even did yard work – which was bad for his health, he says, because he's allergic to several kinds of grasses and trees!
Other music experience besides a little over three years of piano lessons and playing the piano to some degree, mostly "by ear," include playing guitar, bass guitar, harmonica, six-string banjo, ukulele, and English recorder; he used to play drums some, and played trumpet from fifth grade through his first year in college, then occasionally for several years after that, but played less and less frequently and eventually lost his embouchure and no longer plays (but might try to pick it up again sometime, though). He also played bass guitar and trumpet (not at the same time) in a folk-rock gospel group, started by his brother Orville, for a couple of years while in college. The group, called The New Light, did several concerts on college campuses across Arkansas.
Greg says that his desire is to serve God with the abilities He has given him in helping others to worship and serve God as He expects us to, and to allow God to "hone" those abilities in him, and in those he leads, for God's honor and glory.
(updated 3-11-14)