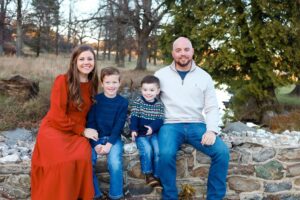 Pastor Zack Stringer
grew up in DeKalb, TX and attended Westside Missionary Baptist Church in New Boston, TX where his grandfather was pastor until 2006. He accepted Jesus Christ as his Lord and Savior at the age of 13.
Upon graduating from James Bowie High School in Simms, TX, Pastor Zack enrolled at the University of Central Arkansas in Conway, AR to pursue a degree in Physical Therapy. During this time, he was also struggling with the fact that he knew God was also calling him to the ministry. After living in central Arkansas for a year, he and Sis. Katie (then fiancée), started attending Antioch Baptist Church in Little Rock, AR. They both joined Antioch in 2009 and from that point on the Lord started opening new doors and closing old ones.
Pastor Zack surrendered to the ministry in 2009 and began attending The Missionary Baptist Seminary in 2010. He graduated from the Seminary in 2014 with a Bachelors in Bible Languages, and in 2018 finished his Masters Degree in Bible Languages.
In 2012 Pastor Zack took a position as the youth and associate pastor of County Line Missionary Baptist Church in England, AR. In 2014 he accepted God's call to be the Pastor of New Friendship Missionary Baptist Church in Benton, AR where he served for 6 years.
After much prayer and time spent seeking God's will, Pastor Zack accepted the call to be the Lead Pastor at First Baptist Church of Inwood to serve the Lord alongside Pastor Devin, Pastor Josh, and Pastor Greg, along with the loving people of this community.
Pastor Zack and Sis. Katie married in September of 2010. They have two boys, Carter Logan, born in 2016 and Will Thomas, born in 2019. They also have a daughter, Paisley Kate, who is waiting for them in heaven. Paisley was born in 2013 with a heart defect. God allowed them to have 3 beautiful months with her in Children's Hospital before he decided she would be best taken care of by the Great Physician. Because of Jesus Christ and his precious sacrifice for us, they look forward to, and hope in that happy reunion day when they will see her again!
Through all of life's valleys and mountain tops, Pastor Zack and his family hold on to the truth found in Psalm 73:26, "My flesh and my heart may fail; but God is the strength of my heart and my portion forever."