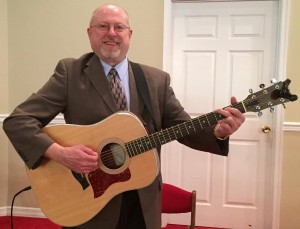 Music Minister Greg Jenkins
Our Minister of Music, Greg Jenkins, was born in Quanah, TX, the middle child of three boys. He was raised up in church. He sang in the children's choirs when he was very young. He was saved and baptized at the age of eight. His parents were divorced when he was 12 and 3 years later he moved to Conway, Arkansas with his younger brother to live and work on the farm with his dad and older brother. He graduated from Conway High School as well as from the University of Central Arkansas (UCA) there. At age 17, he began leading the singing in his home church in Vilonia, AR. He married Jessie (McPherson) in 1972. They met at church. He says that she has been has best friend all these years. He feels that the Lord really blessed him with her.
His first official ministry position (part-time), was at Mt. Pleasant Baptist Church in Cabot, AR. He also served at Salem Baptist Church in Pine Bluff, AR, Second Baptist Church in Malvern, AR, and Baring Cross Baptist Church in Arkadelphia, AR. He graduated from the Missionary Baptist Seminary and Institute in Little Rock, AR, and received an Associate in Church Music Education degree plus Bible languages. He also has a Master of Science in Education degree in Spanish and a minor in French from UCA. He taught Spanish, off and on, in various school districts in Arkansas while serving the churches mentioned above. He has seen God's hand all along in leading them to each field of labor and He has always been good to them even in the toughest of times.
Greg and Jessie have 3 children: Felisa and her husband Bryan Fendley, Arin and his wife Kristy (Kidder), and Keenon and his wife Julie (Cheshire). They are blessed with 13 grandchildren.
God has also blessed him with the ability to play several instruments: guitar, bass, piano, harmonica, six string banjo, ukulele, english recorder, drums, and trumpet. He no longer plays trumpet because he has lost his embouchure due to his not having played in many years.
His desire is to serve God with the abilities He has given him in helping others to worship and serve God as He expects us to, and to allow God to "hone" those abilities in him, and in those he leads, for God's honor and glory.
(updated 04/29/20)